Complete Professional Housecleaning Services
Imagine walking into your home and having it professionally cleaned by a professional house cleaning service.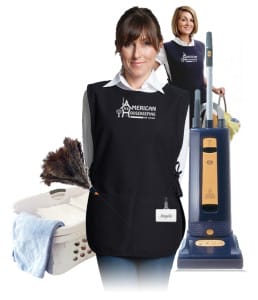 Our most popular program is a weekly  cleaning that can be customized to meet your needs. Check out our White Glove Service
Free Estimates
Reasonable Rates
Guaranteed Results
Competent, Reliable Maids
Licensed, Bonded, Insured
One Time Only, Weekly, Bi-Weekly or Monthly
All Equipment and Supplies Provided
Move-In, Move-out and Construction Clean-up
Check out our White Glove Service
Frequently Asked Question
PRICE (Company vs. Individual):
Question: Why go with a company over an individual?
Answer:  When you hire a company, you're not just hiring us to clean your home. You're hiring us to take care of our employees, too. If you hire an individual, you become their employer and have certain responsibilities, such as taxes, liability insurance and the possibility of being sued if your housekeeper is injured in your home. We also have an office staff that is there from 8:00 until 5:00 each day, so that you can call to change your scheduling, or complain if there are any problems.
We bring our own cleaning supplies and equipment and we come the day we say we will.  If an individual becomes ill, your home is simply not cleaned. With our company, we aways have enough folks on staff to make sure your home is tended to. And when our housekeepers quit, we hire and train a new one, so you don't have to always be looking for your next housekeeper.
WHAT MAKES US BETTER THAN OUR COMPETITORS?
We do everything legally, like withholding and Worker's Compensation.
We bring all our own supplies, including two expensive vacuums with a lot of suction that have attachment, so we can vacuum furniture and stairs.
We provide the transportation, so you don't have housekeepers failing to show up because their car has broken down.
We have an office staff who are available every weekday from 7:30 a.m. to 5:00 p.m.
We have a quality supervisor who trains our housekeepers.  They watch training films and then get hands-on training in the field.  We also do spot inspections.
Our work is guaranteed.  If you ever find a problem with your clean, you would just call the office, and we would gladly make certain that the problem is corrected.
At least one housekeeper in their home will be English speaking.
We have by far, the largest housekeeping company in the state, so we must do something right.
CAN YOU CLEAN…?
Inside the refrigerator? "Yes.  It is not part of the Standard White Glove Service, but when you want them to do it, let the office know or leave the team a note.  Then, they will substitute other things in your kitchen that time and do whatever they have time for.  They will not, however, throw away any food."  If they want it done every time, you may need to bid their house up a grade.  Look inside of it to determine.  Note:  if it is a move out clean, ask them if they want the inside of the frig cleaned, because they usually will.  Add it to the job notes, and indicate the freezer section as well, or the housekeepers will likely overlook that part.
Inside the oven? "Yes, we can do it, but you would need to spray it out with oven cleaner before we come."  If it is a self-cleaning oven, they need to run it the day before, so it will be cooled down, then we can wipe it out. We can add time or substitute as with the frig.  If it is a move-out clean, be sure to ask, because often they will want it done.  Include in job notes.
Windows? We normally clean the sliding glass door in the dining area (weather permitting), the window over the sink, and a front storm door.  If they want all of their windows cleaned, let them know we can arrange for an estimate, but that it is a separate bid.  Make sure that our recommended window washer is notified.
Walls? We clean handprints, baseboards and cobweb.  If it is an estimate for a regular customer, we may consider a small job in addition to our Standard White Glove Service.  However, we cannot for: